…the jerusalem syndrome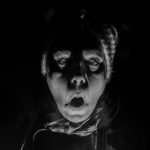 Jerusalem is and has been the center of interest and belief for the largest religions on earth. Tourists and believers alike travel and pilgrimage to the city where solomon supposedly built his temple, jesus dragged the cross through the via dolorosa and muhammad landed after his night journey from mecca, riding a winged horse. The city has been in the center of all 3 beliefs and has brought peace to their followers as an anchor and playground for each respective mythology. On the other hand it has been torn by struggles over supposedly holy land and buildings.
The jerusalem syndrome is based upon the idea that some visitors of the holy city experience an intense religious psychosis that resolves quickly after departure. The condition was first formulated in the 1930s by jerusalem psychiatrist heinz herman and while this sort of behavior has been recorded in other, mostly religiously important places and cities like rome or mecca, incidents in jerusalem have drawn more attention due to the cities special situation.
In essence there are 3 types: type 1 and 2 are basically saying that people with preexisting conditions are freaking out when they´re in town, which seems unsurprising. The third type however says that undiagnosed and sane people enter the city limits and suddenly and out of thin air show the following symptoms: anxiety, agitation, nervousness and tension plus other unspecified reactions, the desire to split away from the group to explore jerusalem alone, compulsive bathing and showering, the obsession of being pure and clean, the need to wear a toga often made out of the hotel room bedlinen, prophetlike behavior, roaming through the streets and reciting or shouting psalms verses and hymns, delivering a sermon in a holy place.
An american tourist was so overwhelmed that he stayed, learned hebrew and is walking through the streets pretending to be king david ever since. From 1980 to 1993 admissions to the kfar shaul mental health centre were counted and analyzed. In that time frame around 1200 tourists have been diagnosed, 470 of which had to be treated clinically. Out of an average 3 and a half million visitors each year about 100 show symptoms and around 40 of those have to be admitted to a hospital. When seen proportional and in comparison with other cities, these numbers are quite normal and average. At least in this respect jerusalem is not that different from other cities.