…let freedom ring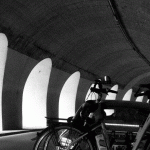 Slavery had a long tradition in the USA. It officially ended on 18 December 1865, after the Thirteenth Amendment was ratified and successfully added to the constitution. As of that moment black people were granted citizen status, the men were given voting rights and the age of slavery was officially and legally over.
Throughout generations most americans have been living under the impression that black people were not as intelligent, not worthy of any salary let alone the same and generally speaking of lesser quality. After 1865, slave owners saw it as if they were deprived of their property, and slave traders were suddenly prosecuted for a crime they claimed to not understand. For decades and longer, black citizens were therefore often underpaid, would be denied jobs with high economic or political influence, would be denied higher education and were unable to rent houses or apartments in decent areas. The social and economic separation between black and white would remain for almost a century and see only little progress.
In the early 1960s A. Philip Randolph and Bayard Rustin started to organize a cooperation of civil rights, labor and religious organizations. They wanted to accumulate as much people for a demonstration in Washington DC at the Lincoln Memorial. The main theme was "freedom and jobs". On wednesday 28 August 1963 an estimated 250.000 people participated in what is generally known as, "The March on Washington for Jobs and Freedom", "The March on Washington" or the "The Great March on Washington".
The primary objective of this rally was to overcome the discrimination of black people in civil and economic rights issues, through raising public awareness and help passing legislation. In the early 1960s a set of laws, known as Jim Crow Laws, has been passed that heavily discriminated and helped to oppress black people. Depending on the state and region, social discrimination was so huge that because of violence and intimidation it sometimes was made impossible for them to vote. Interracial marriage was prohibited in 21 states.
In 1963 Randolph, James Farmer (president of the Congress of Racial Equality), John Lewis (chairman of the Student Nonviolent Coordinating Committee), Martin Luther King Jr. (president of the Southern Christian Leadership Conference), Roy Wilkins (president of the NAACP) and Whitney Young (president of the National Urban League). Together with Bayard Rustin the group agreed on these specific goals of the march:
Passage of meaningful civil rights legislation
Immediate elimination of school segregation
A program of public works, including job training, for the unemployed
A Federal law prohibiting discrimination in public or private hiring
A $2-an-hour minimum wage nationwide
Withholding Federal funds from programs that tolerate discrimination
Enforcement of the 14th Amendment to the Constitution by reducing congressional representation from States that disenfranchise citizens
A broadened Fair Labor Standards Act to currently excluded employment areas
Authority for the Attorney General to institute injunctive suits when constitutional rights are violated
The events schedule was partitioned as follows:
The National Anthem – led by Camilla Williams (originally Marian Anderson was scheduled, but couldn´t make it in time)
Invocation – by Reverend Patrick O´Boyle; Archbishop of Washington
Opening Remarks – Philip A. Randolph; Director of the March on Washington for Jobs and Freedom
Remarks – Dr. Eugene Carson Blake; Stated Clerk, United Presbyterian Church of the USA; Vice Chairman, Commission on Race Relations of the National Council of Churches of Christ in America
Tribute to Negro Women Fighters for Freedom – Daisy Bates (originally Mrs. Medgar Evers was scheduled to talk, but missed her flight); led by Bayard Rustin introducing Daisy Bates, Diane Nash Bevel, Mrs. Medgar Evers, Mrs. Herbert Lee, Rosa Parks, Gloria Richardson;
Remarks – John Lewis; National Chairman, Student Nonviolent Coordinating Committee;
Remarks – Walter Reuther; President United Automobile, Aerospace and and Agricultural Implement Workers of America, AFL-CIO; Chairman, Industrial Union Department, AFL-CIO;
Remarks – James Farmer; National Director, Congress of Racial Equality;
Selection – Eva Jessye; Choir
Prayer – Rabbi Uri Miller; President Synagogue Council of America;
Remarks – Whitney M. Young, Jr; Executive Director, National Urban League;
Remarks – Mathew Ahmann; Executive Director, National Catholic Conference for Interracial Justice;
Remarks – Roy Wilkins; Executive Secretary, National Association for the Advancement of Colored People;
Selection – Miss Mahalia Jackson;
Remarks – Rabbi Joachim Prinz; President American Jewish Congress;
Remarks – The Rev. Dr. Martin Luther King, Jr; President Southern Christian Leadership Conference;
The Pledge – A. Philip Randolph
Benediction – Dr. Benjamin E. Mays; President, Morehouse College;
Before and during the event certain difficulties arose. All of which were either taken care of or simply had only little to no effect on the march itself:
The sound system that Randolph bought just for the event was sabotaged the night before. It was badly damaged and beyond repair for the demonstrators. Walter E. Fauntroy, who served as the D.C. coordinator contacted Attorney General Robert Kennedy and demanded to have the Sound System fixed. Allegedly he said: "We have a couple of thousand people coming. Do you want a fight here tomorrow after all we have done?" According to Randolph: "We cannot maintain order where people cannot hear". The US Army Signal Corps repaired the system over night.
At the day of the march about 50 members of the American Nazi Party assembled for a counter protest but were quickly scattered by the police.
During the months before several activists organizing the march have received bomb threats at their homes and offices. The LA Times headquarters received a bomb threat that would be carried out if they didn´t issue a statement calling the president a "Nigger Lover".
The FBI received calls from a man in Kansas City who claimed to plan to put a bullet in between Dr Martin Luther Kings eyes. The FBI didn´t respond and didn´t deem it necessary to investigate.
Roy Wilkins was threatened with assassination in case he didn´t leave the country.
Despite these threats and problems before and during the event, The March on Washington was perceived to be peaceful. Police and reporters said that in the very early moments of the march some people feared an attack or bombing, but later on that feeling and insecurity went away.
The March on Washington, and its organizers are vaguely remembered nowadays. Most famous of course is Dr. Kings "I have a dream" speech. It is however worth mentioning that Bayard Rustin, A. Philip Randolph, the so-called "Negro Women Fighters for Freedom" and others laid the ground work in organizing the event, and that their work made huge impacts on civil rights movements and the legislative process itself. The laws passed in the aftermath of the march were a great help in bringing, and educating the following generations about equality, not only in america but also worldwide.
The Economic Policy Institute launched a series of reports in 2013 around the theme of "The unfinished March". In these reports it is investigated whether the pledge of the march has been fulfilled, in what way and to what degree. The findings of these reports are devastating as it shows that the goals have not been accomplished in regards to:
housing
working conditions and salaries
education
It was further established that black ghettos are formed and upheld even though necessary legislation has been installed to prevent it. These ghettos often show high unemployment rates, inferior education and therefore perpetuate the problem of inequality and race separation.
But even though that might seem depressing, it is still worth noticing that our general perception, that all humans have the same rights because they are equal, is one that is seldom put to question. In that sense the efforts of the March on Washington have not been in vain, and the ideas formulated in the pledge read by A. Philip Randolph on 28 August 1965 from the Lincoln Memorial have not been forgotten.