…Monsignor Lemaître vs Pope Pius XII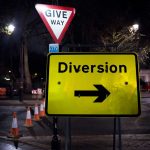 George Lemaître was a belgian catholic priest who lived from 17 July 1984 to 20 June 1966. Lemaître, even though he was an ordained priest in the catholic church, devoted his life mostly to the studies of physics, especially astronomy.
In 1927 he published his paper "A homogeneous Universe of constant mass and growing radius accounting for the radial velocity of extragalactic nebulae" in the magazine "Annals of the Scientific Society of Brussels". The paper applied Albert Einsteins theory of general relativity to cosmology for the first time, formulating that our universe began with a giant explosion, and since then keeps on expanding.
Lemaître was the very first one that published such an observation, predating Hubbles first publications by 2 years. His theory also included what is known today as Hubbles law, and even estimated the value of the now known Hubbles constant. Given the low reach of the magazine he published his paper in, he was little known to the science community back then. Only an article published by his teacher and mentor Arthur Eddington commenting on his theory, would bring a higher publicity to his theory and to him as a scientist.
Even though he was a priest, he never seemed to be torn between his scientific findings and his faith. After all, he always kept looking for what he called the "Cosmic Egg" or "Primeval Atom". A structure, particle or condition that predates our universe and delivered all necessary energy and or particles to create it. In his mind a creator or god could have created the cosmic egg that ultimately lead to the creation of the universe with all its properties as we know it today. When asked by pope PIUS XII, whether this theory would prove the existence of god, and whether the church should make it official doctrine so that everybody should believe in it, he allegedly recommended to keep science distinct from faith. It is unclear in what way this discussion took place between Lemaître and the pope, and whether it was a heated argument or a friendly chat. It is assumed that after a while both parties agreed that science shouldn´t interfere in faith, as well as faith shouldn´t interfere in science. In that context George Lemaître proves perfectly that faith and science can easily coexist, and just because we believe in one god, many gods or none, we can take scientific facts for what they are and faith for what it is.
He was elected a member of the "Pontifical Academy of Sciences" in 1936, and served as its president from 1960 until his death. He died on the 20th of June 1966, shortly after having learned about the discovery of the cosmic microwave background radiation, which provided crucial evidence supporting his theory, known today as the Big Bang Theory.